Published on 15 February 2021
by BREDA FENN
We're all Masterchefs these days, right? Surely after binge watching Man Fire Food for the good part of a decade, simply putting another shrimp on the barbie ain't no thing?
Apparently indeed, it is somewhat of a 'thing' and if you're like me you found out the hard way.
From fat fires to raw innards and carcinogenic outers; that initial tong-wielding, boastie flex has the neighbours not wondering "gee, someone's cooking something amazing" but rather
"do we need to call triple zero"? Many memories come to mind of failed flame and unsalvageable fare, which left me beating my chest in frustration; moaning and groaning about how it was everyone else's fault but mine; the shame I'd brought upon my ancestors, palpable. A common narrative for many and yet, the pull towards cooking over flame is irresistible.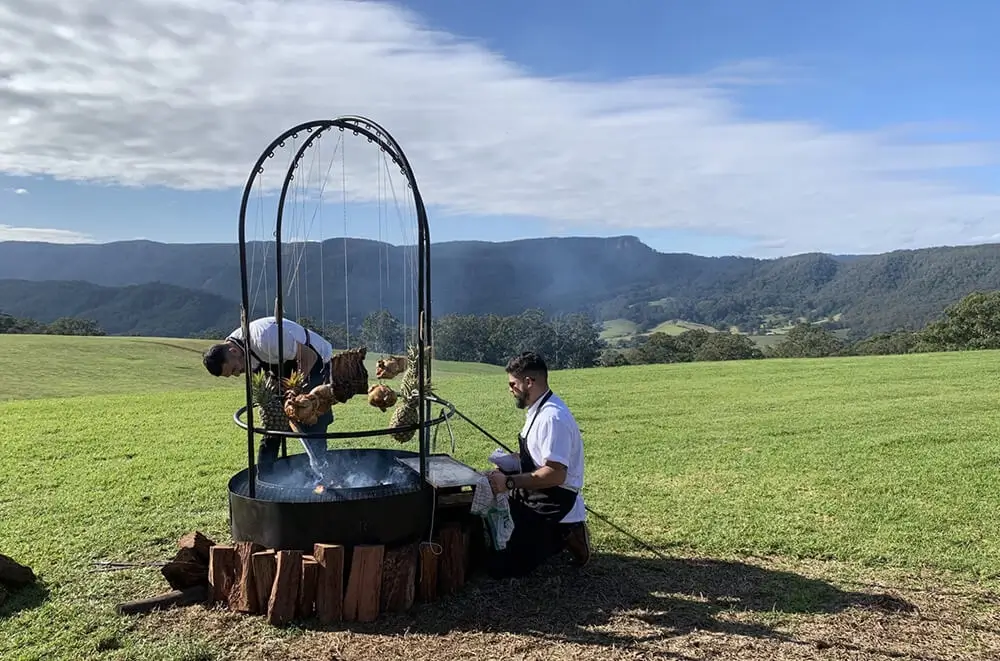 Food and flame 
Apart from tasting superior to other methods of cookery (imo), I think there is more at play when it comes to our age-old obsession with cooking over flame. Besides tasting good there are more exciting benefits that come from feasting with fire.
When we cook over flame, not only do we receive that iconic char or caramelisation on our food, but we impart the flavour and essence of the fuel we cook with. Every region has distinct and unique forestry and flora and of course, the relationship that a people develops and maintains with that land results in very nuanced and sophisticated ways to infuse the flavour of that territory whether intentionally or consequentially.
The wood, charcoal, husks or other that a community uses for cooking with will give a distinguishable taste to food that cannot be replicated with other sources of fuel or different types of wood. It's why people who crave the taste of their homeland or memorable travel destinations go to extra lengths to find and sometimes import special charcoal or wood chips from that place. That nostalgia of home or the memory of travel is not just triggered by the dish itself but the flavour of the source of heat and the aroma of that moment your meat turns from "not yet" to total perfection; instantly transporting you and connecting you to that place and simply cooking a regional dish over the stove won't do.
Having said that, it's not just wood or charcoal that imparts notable flavour. Even the iconic taste of sausages cooked on a gas or electric barbecue outside Bunnings elicits its own personality; conjuring up memories of Sundays in Summer, which leads me to my next thought. One of the most human and universal emotions is that feeling that comes when you remember that time you sat around the fire in the company of family, friends or complete strangers and you think to yourself "we've gotta do that again".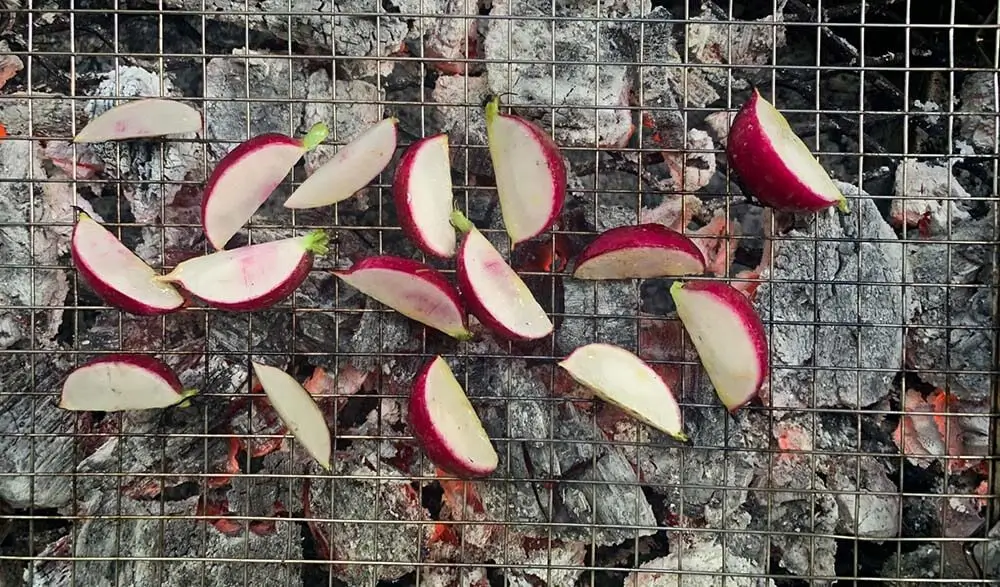 Fire and food together create a space for deep memory that thermo-cookers and convenience appliances just can't do. I mean, does anyone have stories about that time they danced around the pressure cooker singing Kumbaya? Whether it's dads and uncles hovering confidently over sausages; oversized tongs in one hand and a VB in the other or mums and aunts confidently handling searingly hot woks like it's nobody's biz, you can't escape the power of fire on our subconscious once those contextual cues are established and that olfactory sense is awakened.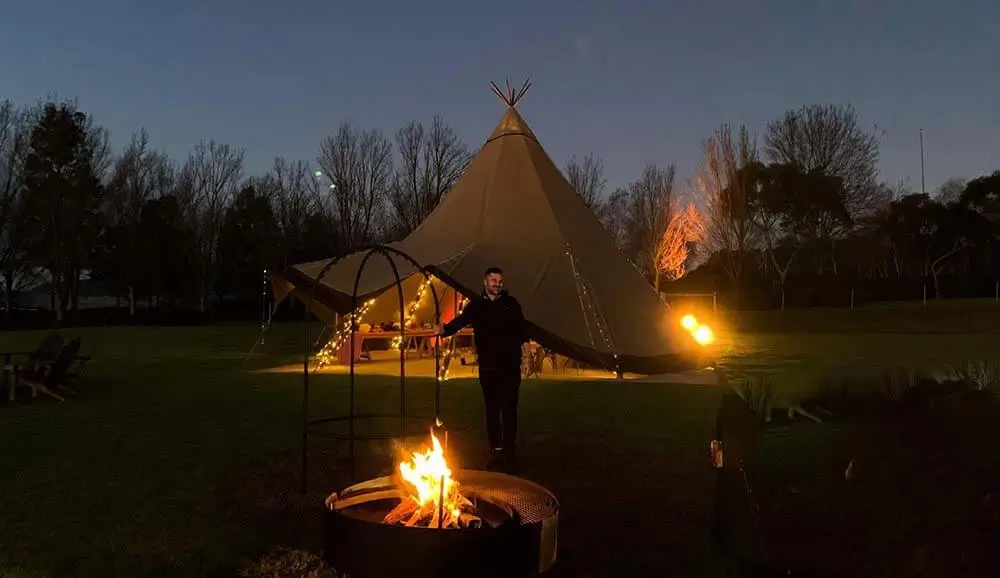 Chapa and Fire
There are infinite options when it comes to fire. From fuel to ingredients, hibachis to hangis; temperature and time, cuts of meat to levels of doneness; it doesn't really matter which way you go, as long as there's fire and food, good times surely ensue.
It's fire that inspired Chapa to form in the first place. For Clay and Flor, Chapa was born out of a longing for the taste and culture of home. They started cooking asados for friends and family to maintain their connection to South America and to share that with others. More and more people began to ask for their style of cooking for birthdays, anniversaries and baptisms; inspiring them to begin offering their unique style of catering to the wider public.
Designed for foodies and those who want to experience something new, their style of fire cooking not only delivers unbeatable flavour but adds a special theatrical element to your event that will create lasting memories for you and your guests.
Whether it's in your backyard or 'on location' there's an option to suit. The Chapa team are people-focussed and they are there to bring good flavours and excellent vibes. There to guide you from initial consultation through to bump-out, they are well equipped to ensure your event goes smoothly and that your experience is unforgettable in all the right ways.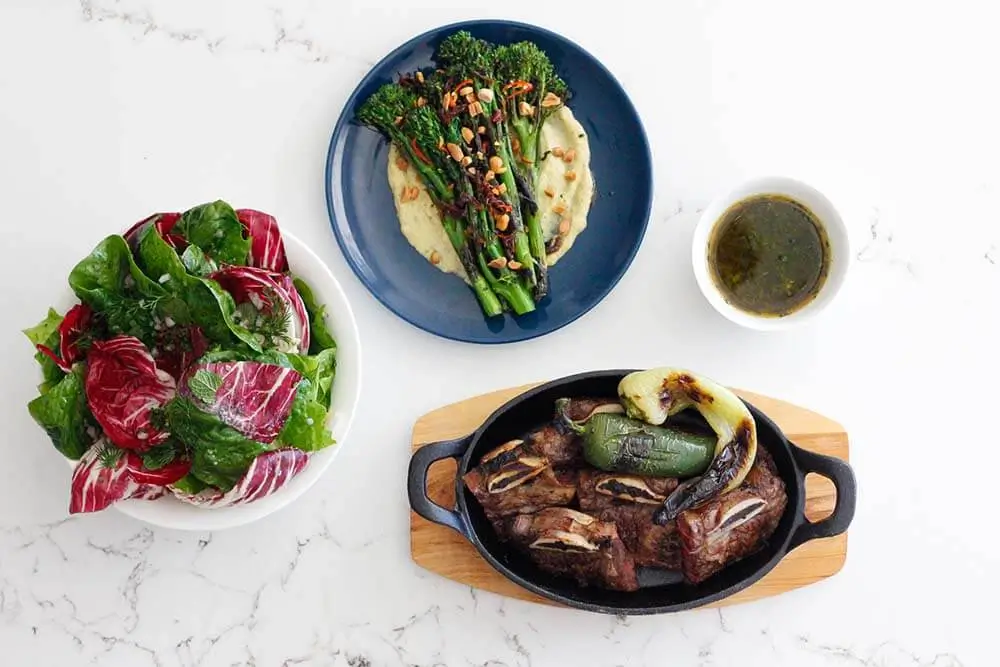 Some FAQs about catering with fire. 
Q. Do you travel interstate?
A.We travel to regional NSW and interstate for special events as well! We love the outdoors and visiting new places.
Q. Do you cater for small events/what is the minimum number? 
A. We do, but there is a minimum charge. We recommend our dome & 'parrilla' wood fired grill  for groups over 20pax and the 'asador' fire pit for over 40pax.
Q. How many hours do the chefs need to be there for? 
A. Cooking with fire takes a long time to establish and slowly roast meats over the flame. Chefs need to be there for up to 12 hours depending on your needs. 
Q. How much space do you require?
A. For most of our outdoor events we can use 3x3m or 3x4m
Q. Do you require a commercial kitchen? 
A.We can operate without a kitchen, but we require access to water and electricity.
Q. What happens when there is a fire ban? 
A. When there are fire bans, we are able to offer the same menu out of your kitchen if the event is at your home. We are able to bring some other commercial equipment (oven of gas flat top) as well. Get in touch to discuss options.
Drop us a quick call or email and we'll get straight back to you.
–
 163 Enmore Road, Enmore NSW 2042
---